The inspiration for this pizza comes from one we had at Providence Coal Fire Pizza. Essentially, it is a Margherita Pizza topped with a few handfuls of fresh arugula after baking. Fantastic!
The homemade crust you see here is from Julie Hasson's new book, Vegan Pizza, for which I was lucky enough to be a tester.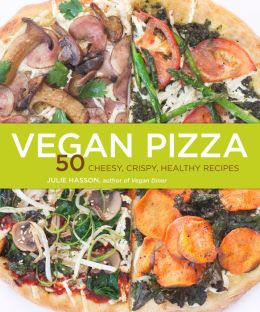 This is the whole wheat version of her homemade dough, which is quick, simple, NO knead, and comes out fantastic every time! The recipe for the "Easy-Peasy" basic white flour pizza dough can be found here in this article from The Oregonian. To make you dough whole wheat, simple replace two (2) cups of the white flour with whole wheat flour (I use Bob's Red Mill). One of the many things I can say about being a tester for this book, is that I have lost ALL fear of homemade dough, and working with yeast. Pizza is now in the regular dinner rotation here at our house. Thank you, JULIE!
So for the rest, we have:
THE ROCKET

(adapted and veganized from Providence Coal Fire Pizza)
1/2 batch of whole wheat pizza dough form Vegan Pizza, (b

rushed with extra virgin olive oil, and sprinkled with Italian seasoning, salt, pepper)

1/2 cup San Marzano tomato puree

1 tsp Greek oregano (from the festival)!

6-8 slices of Teese mozzarella (sample from Vida Vegan Con)!
Bake pizza at 500 degrees on a PREHEATED pizza stone for 11-12 minutes.
*Try and preheat your stone for at least 30 minutes. I roll my dough out on parchment paper on top of my cutting board, top the pizza with sauce, cheese and/or toppings, and then use the cutting board to transfer the parchment right to the pizza stone. I try and work as quickly as possible, so the oven doesn't loose any of that wonderful heat while the door is open.
While the pizza bakes, toss several handfuls of baby arugula with a small drizzle of extra virgin olive oil and some sea salt to taste. When the pizza comes out of the oven, I spray it a bit with the fantastic chili basil oil (pictured in the back of the first photo), that my mom brought me back from Italy. And, then top with the fresh arugula and a bit of nutritional yeast. Today, we also had some leftover cherry tomatoes, which I thought looked nice on top, too!
Slice in to 8 pieces and ENJOY!! The peppery arugula gives this traditional plain pie a nice fresh kick. Try it out and let me know what you think. ^_^