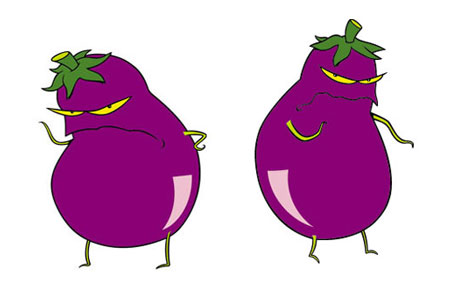 Haters gonna hate, and let me tell you, my distaste for these squat, purple little vegetables runs quite deep.
Who's with me here?!?
I've had more soggy, mushy, bitter skinned eggplant dishes in my lifetime than I care to count. And, don't even get me started on the SEEDS. There's nothing worse that biting into a perfectly crisp, fried eggplant sandwich, only to find yourself with a mouthful of bitter seeds... blahhh!!
So when my friend brought me over a cute little eggplant that she grew herself in her garden, I was less than enthused. How can I possible make this into something I'd actually want to eat?!
So
falafels
came to mind, (as they so often do), and I thought I'd try my hand at some Baba Ghanouj
Baba Ghanouj - Middle Eastern Eggplant Dip 1 eggplant

(1 medium or 2 small) 2 garlic cloves, minced 1/4 cup lemon juice, fresh 1/4 cup tahini 1/2 teaspoon salt 1/2 teaspoon ground coriander 1/4 parsley, minced black pepper, to taste 1 pinch cayenne

(optional, bu I like a little spice) For garnish olive oil parsley Directions:
Preheat oven to 350.
Line baking sheet with foil and spray lightly with non stick cooking spray.
Slice eggplant(s) in half lengthwise, and place face-down on baking sheet.
Bake for 30-45 minutes, or until very tender.
Cool until comfortable to handle.
Scoop out the eggplant flesh and discard the skin.
Place in food processor with garlic, lemon juice, tahini, salt and coriander.
Puree until smooth.
Add minced parsley and pulse to combine.
Pour into bowl, check for salt, add pepper and cayenne (if using).
Chill for half hour, or until ready to serve.
Top with a drizzle of olive oil and some parsley.
I served this as a spread on homemade falafels, and had the leftovers with pitas. ^_^